Are you an adult with a learning disability who can access central Chichester independently?
If yes, then why not visit the Hub Club, where you can make new friends, have fun and take part in a wide range of activities every Monday, Wednesday and Friday (excluding Bank Holidays).
*Individuals supported by 1:1 carers are welcome to attend Hub Club sessions with their carer.
The Hub Club is part of the Apuldram Centre and offers a service 3 days per week from the Chichester Boys Club building in Little London, Chichester, to promote and maximise independence and community integration.
Weekly Timetable
Mondays 9.00am – 3.30pm
*Street Dance session at 10.30 am
WEA Boccia session at 1:00 pm
Wednesdays 9.00am – 3.30pm
Primarily a Sports based day.
WEA Drama session at 10.30 am
Out-there Sports at 11.00 am at the Westgate Leisure Centre (we walk as a group down to the Centre) our customers have a choice to either *swim or use the *gym for an hour.
Out-there Sports again at 1.30 pm which consists of a number of activities including cricket, football, curling and skittles.
Fridays 9.00am – 3.00pm
Typically a quieter day with a craft/quiz based theme.
WEA Numeracy & Literacy 10.30am
WEA Music session at 1.00 pm
*Arts & Crafts 1.30pm
All days include tea and coffee, crafts, socialising, pool, drawing, sewing and games.
---
The rates for the Hub Club are:
£11.50 for Half a day
£16.50 for a whole day
* Additional charge for activity £1.50 to £5.00
Whether you attend for a half or whole day session, once, twice or three times a week, our support staff will welcome you and encourage you to make the most of your day. They will point you in the right direction of extra support if any problems arise, to ensure that you continue to live a safe, happy and independent life.
For more information please contact the Apuldram Centre on 01243 783370
or via email at Hubclub@apuldram.org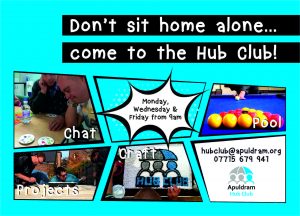 ---
View Our Gallery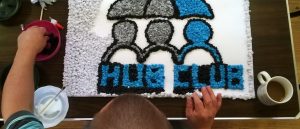 View Gallery
---
How to find us
---
Watch our Video